Rehabilitation work for flood hit Himalayan villages
RUDRAPRAYAG, INDIA, 31st January 2014: From the onset of its relief operations for the flood affected Himalayan districts in June 2013, Pragya staff has been involved in carrying out area specific need assessments, which helped in formulation of effective rehabilitation strategies with inputs from key stakeholders. Pragya is in the midst of implementing its rehabilitation plan in the four affected districts viz. Rudraprayag, Pithoragarh, Chamoli and Uttarkashi. The interventions are spread across various sectors to reinstate people most affected by the floods. Regular health camps & psycho-social counselling sessions are being conducted in flood-affected villages by competent & qualified personnel. Pre-fabricated toilets (in order to ensure quicker installations) are being set up for households that have suffered severe damage to their houses. Covered water storage tanks with filtration units are being provided to the communities for ensuring safe potable water. A cadre of youth volunteers has been created in the flood affected districts as a Helpline to spread awareness and assist people to avail newly introduced schemes and provisions for flood-affected people/communities in the state, facilitating them with necessary paper work and procedures. Pragya is also working to ensure livelihood security for the households that are severely affected in terms of livelihoods due to the flashfloods in Uttarakhand. Households are being provided material support and technical assistance for setting up suitable low-cost greenhouses, along with vegetable seeds & saplings, farm tools etc., for undertaking cultivation of short-gestation, high-value vegetable crops for sale. Pragya is in process of initiating an in-depth research for customised livelihood solutions for the flood affected families.
BARC approved filtration technology for flood-affected villages
JOSHIMATH, INDIA, 20th October 2013: Addressing the concerns for WASH in post-disaster scenario, Pragya is carrying out significant work in Uttarakhand, India for communities that have suffered damage to their water supply and storage systems or are currently experiencing water stress or those that are identified to be dependent on contaminated/unsafe water sources for drinking purposes. Pragya is installing BARC (Bhabha Atomic Research Centre) approved technology for filtration units comprising activated carbon and 0.01 micron membrane filter that can remove micro-biological impurities to ensure safe water for these communities. The membrane life is 3-5 years with 300 ltr/day output at 10 psi pressure.
Innovative health surveillance system for women and infants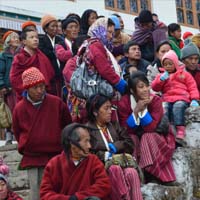 GURGAON, INDIA, 24th September 2013: As a part of Pragya's initiative to maternal and neonatal child health, Women's Care Groups (WCG) have been formed in Himalayan villages. A health & nutrition surveillance program for girls and women has been instituted through these groups. Each group uses the program to watch out for health & nutrition risk signs among the girls and women in the village, take necessary precautions or refer for timely clinical care, provide dietary guidance where required, and liaise with government facilities to access necessary supplements, for example, folic acid supplements for pregnant women. The groups are equipped with necessary instruments, such as Aneamia detection kits (non-invasive) for haemoglobin monitoring, and trained in the surveillance system; the procedure enables a comparison against norms and ranges for BMI, blood sugar, BP, Hemoglobin, etc., set to high-altitude conditions, for adolescent girls and women. They also collect data on food intake and nutritional levels, with a focus on specific high-altitude deficiencies such as iron, vitamin A, and determine cases of Severe Acute Malnutrition (SAM) and Moderate Acute Malnutrition (MAM).
Cultivation packages for Kenyan farmers
NAIROBI, KENYA, 23rd January 2014: As part of its initiative to conserve and ensure the sustainable utilisation of the medicinal & aromatic plants of East Africa, Pragya Kenya has developed training manuals for cultivation of 6 prioritised medicinal plants and necessary post harvest procedures. Training manual and awareness pamphlets have also been developed in Swaihili language for grassroots conservation planning workshops.
DEISPI for improving students' performance
UTTARKASHI, INDIA, 28th December 2013: Pragya is piloting DEISPI, a tool to improve learning levels, instructional quality, school infrastructure & management, and educational policy planning. It generates performance scores for participating schools, teachers, students and target districts based on pre-set performance thresholds and also prescribes remedial actions as required. Teachers, students, school committees recently attended sessions in Uttarkashi as part of the pilot phase across Himalayan district.
Solar dryers for Himalayan farmers
RECKONG PEO, India, 20th December 2013: The farmers of Themgaram and the neighbouring cluster of villages were helped to set up a Solar Dryer as a shared facility to dry their farm produce. These structures are portable and easy to assemble and dismantle. Similar structures are being set up by Pragya across several other Himalayan districts. These sites would also have weather resistant food storage facilities as a comprehensive measure to ensure food security for remote high altitude villages.
Pragya India recognised as SIRO
GURGAON, INDIA, 15th June 2013: Pragya India is now recognised as 'Scientific and Industrial Research Organisation' (SIRO). The Department of Scientific & Industrial Research (DSIR), under the Ministry of Science and Technology, Govt. of India conferred this status to Pragya for 2013-2016. This is expected to strengthen the research & extension activities carried out by Pragya team in India.
Mountain biodiversity sessions
GURGAON, INDIA, 6th February 2014: Pragya acted as the knowledge partner for the Mountain Biodiversity thematic sessions for 7th CMS VATAVARAN: International Environment & Wildlife Film Festival and Forum' that was held from 30th January to 3rd February, 2014, at the Indira Gandhi National Centre for the Arts (IGNCA), New Delhi. The event featured a kaleidoscope of more than 150 films, talks, deliberations, contemporary discourses, eco-trips, film store, music festival, green haat and organic food festival. The thematic sessions explored various issues and solutions regarding conservation of mountain biodiversity.
Rural Technopreneurs to address Himalaya's energy needs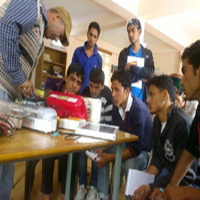 RECKONG PEO, INDIA, 1st October 2012: The youth participants cheered for each other as each of them performed completing electronic circuits successfully! The youths were being trained as Rural Technopreneurs to start up renewable energy based micro-enterprises in the district in order to improve energy access in remote villages of Himalayas. With >5000 un-electrified villages, the high altitude Himalayas is one of the least electrified areas in the entire country. The inhabitants meet 60-80% of their energy needs from the dwindling vegetation cover. Uptake of renewable energy and efficient energy technologies in the Himalayas is constrained by lack of awareness and procurement of renewable energy equipments calls for importing from far-away plains areas; maintenance services are not available within the region. The Pragya initiative is striving to create an energy supply value chain with Energy-Shop-cum-Technology-Kiosks as retail outlets for these products to be run by Rural Technopreneurs. The two weeks long vocational training course helped these youth learn installation, sales and servicing of renewable energy equipments. They are now gearing up to form a cooperative and start their venture.
Consultations for Citizen-based DRR model
TAWANG, INDIA, 20th March 2013: In remote and difficult access stretches of high altitude Himalayas, why do we need a DRR model that can be operated by the community members? As the harsh winters immobilised the transport and communication networks across the Himalayan mountain range, the need and significance of such system became more evident. The need for a decentralised, self-sufficient system for real-time information on local environment to aid community preparedness in remote villages cut-off from mainstream during extreme weather conditions, was stressed time and again, as the Pragya team struggled to gain access in difficult access areas and the stakeholders braved the harsh winter often well below freezing points to come together for the grassroots workshops. Pragya concluded its last leg of consultative workshops with two consecutive events in Tawang and West Kameng in the Eastern Himalayas. Consultations are underway with national level experts, through to pool in knowledge and good practices regarding community based DRR models and relevant ICT technologies.
Peer group support for Himalayan women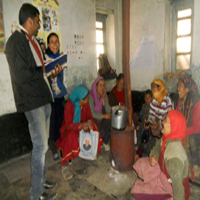 GURGAON, INDIA, 14th March 2013: As a part of Pragya's initiative to maternal and neonatal child health, the Women's Care Groups are being created in remote Himalayan villages to cater to health and well-being of women in the reproductive age, both physical and psychological, and health benefits for girls and young children (0-4 years) as well. 120 of such peer groups have been formed so far. Tribal women in the Himalayas display very high MMR; newborns in the Himalayas suffer from the start, with difficult birth conditions and low birth weight; infections and neonatal diseases often follow due to inappropriate practices. The Himalayan region is characterised by remoteness and inadequate health infrastructure. Lack of access to professional assistance and care during pregnancy and delivery is a major cause of maternal mortality for women in the Himalayas. Women's Care Groups in villages would render wrap-around support and care to women, from the stage of planning their pregnancy, ANC, right through the process of delivery and on to PNC, including care of new mothers and newborn, and childcare.
Capacity Building Training for Para-Teachers
NAIROBI, KENYA, 3rd November 2012: A two-days training event was conducted by TUBAE African Development Trust as part of Praya initiative towards improving quality of education in the underserved areas in Turkana in Rift Valley province of Kenya. It provided inputs to participants on teaching methods, innovative teaching aids and discussed the challenges and concerns faced by the teachers.
Advocacy to address violence against women
NEW YORK, USA, 18th March 2013: Pragya submitted a written statement for the 57th Session of the Commission on the Status of Women (4-15 March 2013) as a non-governmental organization with special consultative status with UN Economic and Social Council. The document highlights the concerns regarding violence against women in the Himalayas (South Asia) and in arid and semi-arid lands (sub-Saharan Africa).
Health camp in Urgam Valley
JOSHIMATH, INDIA, 31st January 2013: As part of its healthcare initiatives in remote high altitude villages, Pragya conducted health camps today in collaboration with doctors from Civil Hospital at Layari and Aroshi villages of Urgam valley, benefitting over 140 individuals. The initiative is striving to address the critical need for reproductive healthcare for women in the Himalayan region and improving healthcare access in remote villages.
Community Resource Centre in Humla
KATHMANDU, NEPAL, 5th March 2013: A Rural Library was inaugurated for a cluster of villages in Humla district. The resource centre stocked with a wide variety of learning resources for all age-groups, computers and audio-visual learning aids was heartily appreciated by the parents and children present at the event.
Greening the flood affected catchments
LEH, INDIA, 11th April 2013: The 2010 flashflood in Leh caused unprecedented loss of life and property. After relief operations, Pragya concentrated its efforts in livelihood rehabilitation. The women of Ney, Nang, Umla, Chaksa, Hanu Yogma, Igoolankur, Taru, Stambardo villages under guidance of Pragya's Thematic Specialists have been working towards rebuilding their lives. Ms. Sonam Yandol, Ms. Dechen Dolma and others have reclaimed over 7 acres of land to set up fodder farms and woodlots in their villages. The early gains have been visible within just 5 months, reducing the physical stress on women. An inspired Ms. Yangdol announces, "next year we will double the area under fodder farm". Such endeavors have benefited around 200 households in Leh so far.
Special Consultative Status with UN ECOSOC
GURGAON, INDIA, 6th August 2012: Pragya India has been granted Special consultative status with UN ECOSOC (Economic and Social Council). The Non-Governmental Organizations Branch, Office for ECOSOC Support and Coordination, confirmed the status last week and informed the organisation of its privileges and benefits of consultative status as per ECOSOC Resolution 1996/31 and the responsibilities and obligations.
Flashflood hits Uttarakhand
At midnight 3rd August 2012, Uttarakhand was hit by torrential rain following a cloudburst in Siyari Gar and Sangam Chatti in Uttarkashi district. The resulting flashfloods and landslides caused unprecedented loss of property and life in the Garhwal region which had to bear the maximum brunt. Estimates suggests approximately 1700 families have been affected from Gangotri to Uttarkashi; in Bhatwari block itself, one of the worst affected areas, more than 25 villages have been affected including 1188 families. Several areas are inaccessible as road and bridges have been washed away, making relief operations difficult. Extensive damage has been caused to agricultural land, irrigation infrastructures, water and power supply systems, houses and community buildings and many families have lost all their belongings. Surveys and visits are being carried out in the region to get an exact estimate of the damage caused. Relief camps have been set up in several areas in Uttarkashi.

There is a major need of essential supplies in several areas, especially the need to communicate and provide relief to those in the still inaccessible and remote areas. Pragya is presently contributing towards this effort by gathering data in order to get a comprehensive picture of the damages caused with the aim to provide immediate relief materials to the affected in form of hygiene kits, tents, bedding, water tanks and water purification tablets, solar lanterns, food, especially baby food and toilets and for carrying out rehabilitation programs in the long term.
Resource Center in Shibuye, Kakamega
NAIROBI, KENYA, 2nd July 2012: As a part of Pragya's initiative to improve educational facilities for children in remote, disadvantaged areas of the Rift Valley Province, Northern Kenya, rural learning centres are being set up. The first of these were set up at Shabwali Secondary School located in Shinyalu constituency in Shibuye, Kakamega district.
Pragya staff along with the partners Muliru Farmers Conservation Group (MFCG) worked with the school authorities to set up the Learning Centre in the school premises that would serve the 891 students of the Shabwali Secondary and Shabwali Primary schools along with the population of the entire neighbourhood. The Centre is equipped with a variety of learning and information resources, AV and IT equipments for bridging the digital divide and innovative teaching and learning aids for children. It would also deliver vocational courses for the youth in the area.
The children, as well as the teachers were quite excited as they explored the new equipments and the learning toys. Mr Justus, the Geography Teacher exclaimed: "I will now be using the 3D Atlas DVD in the computer to explain during my Geography class...It's time we embrace technology".
Consultations in Leh on improving facilities for police personnel in high altitude
LEH, INDIA, 20th July 2012: As part of a study on requirement & standardization of clothing, transport, communication, medical, ration, along with up-gradation of norms for building space for high altitude police deployment commissioned by Bureau of Police Research & Development (BPRD), Ministry of Home Affairs, Pragya is conducting workshops, FGDs and interviews across 12 high altitude Himalayan districts in India. The first round of interactions with multiple stakeholders was concluded this week in Leh district of Jammu & Kashmir.
"Health Mela" at Jang, Tawang
TAWANG, INDIA, 15th July 2012: A 2-days "Health Mela" was organised at Jang in Tawang district on the occasion of World Population Day. The theme "Khusiyon ka aadhar, chhota parivar" focused on family planning and maternal health. Pragya Tawang staff supported the initiative led by the district Health Department. The Minister of Tourism, Arunachal Pradesh and the Deputy Commissioner, Tawang, attended the event.
Training of mothers on nutritious diet
JOSHIMATH, INDIA, 27th February 2012: A one-day training event in was held at Joshimath aimed at creating awareness among women on the importance of a balanced and nutritious diet in leading a healthy life and encouraging improved cultivation practices to help women grow high-nutrient vegetables in their kitchen gardens. Mr. B.S. Bhati, Agriculture Officer was the resource person for the event, who informed the participants about the different varieties of vegetables, their nutrient values and how they can be grown in kitchen gardens. He also gave some important insights on starting and designing a kitchen garden for growing nutritive crops round the year. It was a valuable training for the participants and Pragya's efforts were highly appreciated.
Skill building Training for Tour Operators
TAWANG, INDIA, 14th March 2012: Pragya held a two-day training for stakeholders related to tourism sector in Tawang district, Arunachal Pradesh. Facilitated by the Ecotourism Enterprise Cluster, the training was aimed at developing entrepreneurship and skill for tour operators and tourist guides in the region along with stimulating stewardship for conservation of the natural wealth. The training session covered: fundamentals of eco-tourism; the tourism policies in India and their significance; business planning; personality development and communication skills; tourist accommodation and hospitality; and eco-tourism as a tool for conserving the natural heritage that the region boasts of. Government officials from the Tourism Department provided valuable insights on sustainable tourism to the participants.
Inventory of medicinal plants for conservation focus in East Africa
NAIROBI, KENYA, 6th August 2011: Nineteen members of Muliru Farmers Conservation Group gathered together to prepare a preliminary inventory of medicinal plants species found in Kakmega district of Kenya. The inventorying concentrated on plants occurring in Shibuya location of Kakmega encompassing Luvili, Shelelo, Lsechno, Ikasali, Munderema, Lubambo, Ileho areas. Need for establishing a botanical garden and a Herbarium was identified during the meeting (as there are none in Kakamega), to benefit the community, tourists and researchers. The meeting was held as part of a Pragya initiative in East Africa to conserve Medicinal Plants for Health and Livelihoods.
Citizen Government Meet addressing health concerns at high altitudes
RECKONG PEO, INDIA, 25th November 2011: As a part of Pragya's rights based initiative supported by UNDEF, a Citizen Government Meet was conducted in Kinnaur to facilitate interaction between the health department and the citizens. The interactive session and constructive dialogues enabled the people to become aware of the various health related government schemes and provisions and to raise concerns regarding the services of the department. The event, attended by 38 participants, included representatives from 18 villages in upper and lower Kinnaur, members of the High Himalayan Forum (HHF), NGO representatives from across the district and officials from Integrated Child Development Services (ICDS) and Auxiliary Nurse and Midwives (ANMs).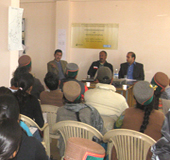 The meeting started with a brief presentation of Pragya's rapid participatory assessment of the healthcare status in Kinnaur district. Following this, Dr. S.S. Negi, representing the Health Department spoke about the National Rural Health Mission (NRHM) and the schemes available for citizens in Kinnaur. Concerns raised during the interactive discussion session regarding the status of Primary Health Care in remote villages included: lack of gynecologists at block level, incapacity of medical personnel and lack of knowledge regarding the major schemes for pregnant women and children among the community members. A request was put forward for the department to conduct more health camps at the block level instead of village level, where surgeries and eye-checks could be done. The issues raised were documented by the representatives from the health department and they assured further interventions in coordination with the state level machineries.
Clean water for Il Ngwesi community at Emurua Olaragai
NAIROBI, KENYA, 11th October 2011: As a part of the clean water initiative by Pragya in Laikipia and Samburu districts, a village level meeting was conducted in Emurua Olaragai village of ll Ngwesi community to map the local water sources and to identify the issues concerning these sources. Three important sources were identified - Oltamam Spring, Loiragai Spring and Looltuka Spring out of which, people prioritized the Oltamam Spring for protective measures. As a result of the intervention carried out in the months of July and August, about 30 households in Emurua Olaragai village now have access to clean and safe water evidenced by lesser incidences of water borne diseases in the area.
Culture Workshop at Darchula
DARCHULA, INDIA, 11th September 2011: For documenting the Himalayan cultural heritage, Pragya along with Heritage Conservation Council of Pitthoragarh conducted a grassroots workshop to identify the most threatened and vulnerable cultural forms. Scientific threat analysis tools were used in presence of experts of different cultural sectors from Rung and Kumouni communities. Through the workshop 15 culture forms under high threat of extinction were prioritised for detailed documentation.
Training of ASHA workers for improved service delivery
JOSHIMATH, INDIA, 23rd September 2011: A advanced skill building training was carried out for ASHA members (Accredited Social Health Activist) in Joshimath block of Chamoli district in Uttarakhand to impart necessary skills required for better service delivery. 33 ASHA members took part in the event where their knowledge on their responsibilities was tested; group activities and discussions were conducted on roles and responsibilities of ASHA, pregnancy care, postnatal care. The training as part of a larger health and nutrition programme supported by the Ashmore Foundation, UK also brought into light those areas where further training/workshops are required.
Community toilets in Dalit settlements of Dolpa
KATHMANDU, NEPAL, 22nd March 2011: Members of Dalit communities in Ralli village of Tirpurakot VDC in Dolpa District were very happy as the construction of the community toilet blocks were completed last weekend. 19 households would benefit from this initiative. This is part of a Pragya's water & sanitation initiative in Nepal, which also has a focus on interventions related to potable water and irrigation. The initiative is underway in the high mountain districts of Dolpa, Humla and Mustang.
Debrief meeting for Economic Justice Programme Evaluation
DEHRADUN, INDIA, 9th February 2012: As part of an evaluation study of Oxfam India's Economic Justice programme in Uttarakhand, a briefing meeting was held at Dehradun. Consultants from Pragya Solutions discussed their initial findings from field visits and documents appraisals with the representatives of 9 implementing partners and Oxfam India staff. Inputs for final assessment report were collected and way ahead discussed during the meeting.
Field visits to remote lands in East Africa
NAIROBI, KENYA, 16th April 2011: Taking forward Pragya's initiative to address the needs of communities in remote areas of the East African highlands and the indigenous peoples of the arid savannah lands in the region, Ms. Gargi Banerji and Mr. Sunil Pillai visited Kenya and held discussions with stakeholders in the target region.
The stakeholders they held discussions with included representatives of the NGO Coordination Board, ACORD, DFID and ICIPE. Field visits took them to Kisumu district in Nyanza province and Kakamega district (highland area in the Western province of Kenya), and they visited the programs run by WEAEP, a local NGO, and the Muliru Farmers Cooperative. They also visited the Il Ngwesi community (Maasai people) in the remote parts of Laikipia district (arid lands in the Great Rift Valley), where they interacted with traditional healers and studied village water needs. Pragya plans to consolidate the relations built during the visit and take its development actions in East Africa a step further.
A multi-stakeholder workshop on 'Himalayan Heritage: Valorization & Preservation'
NEW DELHI, INDIA, 16th November 2010: The workshop - 'Himalayan Heritage: Valorization and Preservation' - organized by Pragya at the India Habitat Centre, New Delhi was aimed at catalyzing heritage-based enterprises, collaborations and networks in the Himalayan region. The two-day event held on 15th and 16th of November 2010 got together a cross-section of stakeholders to a common forum for interactions, deliberations and participative problem solving. The said stakeholders ranged from from local cultural actors and producers of Himalayan products to national experts and policymakers, as well as industry representatives.
The workshop began with the cultural performance by Bhotiya Sanskriti Kala Manch Samiti from Chamoli district, Uttarakhand, giving the Himalayan artists an opportunity to showcase their talent. Kumari Agatha Sangma (MoS, Ministry of Rural Development), who graced the inaugural session of the workshop as the Chief Guest, inaugurated the website 'Himalayan Voices' (www.himalayanvoices.org), a portal meant to bring the voices of the people of the Himalayas to the rest of the world and bridge the information gap existing in the Himalayas. Mr. Uday Kumar Varma (Secretary, Ministry of MSME) addressed the participants as Guest of Honour on the second day of the event. The workshop also included keynote addresses by Mr. Mahendra P. Lama (Vice Chancellor, Sikkim University) and Mr. G.B. Mukherji (Ex-Secretary, Ministry of Tribal Affairs). During their brief presence at the workshop, Padma Bhushan Major H.P.S. Ahluwalia and Mr. P. Udayakumar (Director, National Small Industries Corporation) addressed the participants with a few words of encouragement.
During the workshop, apart from other deliberations, a session was dedicated to facilitating interactions among buyers, community producers and experts specific to identified Himalayan niche sectors. The session enabled discussions and dialogue on potential opportunities, issues and strategies for each niche sector. At the conclusion of the event, the district level conveners of the Himalayan Heritage Network facilitated by Pragya shared their experiences during a panel discussion. Ms. Ellen Pedersen (EU delegation to India) and Mr. G.B. Mukherji, who joined the network conveners at the dais, shared their own experiences with the Himalayas and in the mountain regions in other parts of the world.
Stakeholder Workshop to contribute towards 'Protocol for Safe Working Conditions of the Migrant Road/Dam Workers'
KEYLONG, INDIA, 15th October 2011: A district level stakeholder workshop was conducted at district headquarter Keylong to draft policy recommendations for 'Protocol for Safe Working Conditions of the Migrant Road/Dam Workers'. As pat of a series of stakeholder discussion oriented workshops across various high Himalayan districts, the workshop explored various concerns shared by the migrant workers working in these harsh terrains and the employers and discussed possible solutions.
Healthcare and nutrition for the High Himalayas
LONDON, UK, 8th April, 2011: Pragya would now be implementing a project to address the health and nutrition issues in the high altitude Himalayan belt of India supported by the Ashmore Foundation, UK. Under this 3-year long project Pragya would focus on provision of better nutritive input and health care for the people in remote Himalayan districts, especially the women and the children, and also build capacity of local human resources for health.
Himalayan Literature Award - Kinnaur
RECKONG PEO, INDIA, 15th April 2011: Mr. Ram Bhagat Negi of Chango village of Pooh block received the first Himalayan Literature Award for Kinnauri literature from Deputy Commissioner Mr. R. Sharma during the 'Himachal Day' celebrations at the district headquarter. The award was introduced this year as part of an initiative by Pragya to revitalize Himalayan literature.
Governance & advocacy training in Chamoli
JOSHIMATH, INDIA, 24th April 2011: A two-day training on "Governance and Advocacy" under Pragya's initiative "Active Democracy and Political Participation of Tribal Communities of the Himalayas" was held in Joshimath under the guidance of Dr. Furqan Ahmed of Indian Law Institute, Delhi. Total 103 participants took part in the event.
Active Democracy and Political Participation of Tribal Communities - Pragya's new initiative supported by UNDEF
GURGAON, INDIA, 10th November 2010: Pragya has launched a new initiative to encourage active democracy and political participation among the Himalayan communities. The initiative is supported by the United Nations Democracy Fund (UNDEF). An addition to Pragya's ongoing programmes on indigenous rights and evidence-based advocacy, the project would seek to empower especially marginalized groups - the women, the disabled and the pastoralists in the Himalayas.