Pragya is working to address the needs of communities in remote areas of the East African highlands and the indigenous peoples of the arid savannah lands in the region. We seek to address in particular the communities in the highlands of western Kenya, and along the Rift valley, and in northern Tanzania, as well as the savannah grasslands in the Rift valley region across Kenya and Tanzania. Through our work, we aim to improve the livelihoods of the communities in this region as well as their access to basic welfare services, while also ensuring proper management of natural resources and conservation of the natural and cultural heritage.

Sub-Saharan Africa, comprising the countries on the south of the Sahara desert in the African continent, is a region characterized by the world's most severe social, economic and political problems. Yet, this was the cradle of civilization, the origin of humans, with evidence of the earliest Homo sapiens having been found in modern-day Ethiopia. The region encompasses many geographic conditions
and climate areas and their associated land and vegetation forms. This has given the region an abundant natural wealth and enormous diversity of flora, fauna and crops. Sub-Saharan Africa has the largest number of grains in the world and its faunal wealth is an immense tourist attraction. Along with this biogeographic diversity, the continent has seen large migrations of people, which have also given it maximum ethnic and cultural diversity in the world. Innumerable tribes and clans with their distinctive ways of life, adapted to the local climate and vegetation, reside in the area, more than 1000 languages are spoken in the region, and there is an immense wealth of traditional arts and crafts and other cultural forms.
The Development Gap and Ecological Crisis in the Highlands and Savannahs of East Africa
It comprises two of the 34 Global Biodiversity Hotspots- the Eastern Afromontane and the Horn of Africa. African countries are most vulnerable to impacts of climate change with increased droughts in equatorial and subtropical Eastern Africa.
The mountains and highland regions scattered along the eastern edge of Africa harbours maximum number of endemic species of mammals, birds and amphibians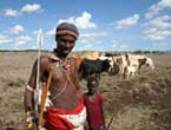 in all of Africa, as well as a great diversity of fish in its large lakes. Expansion of agriculture and various other threats, including commercial plantations, estates and logging have left it a Biodiversity Hotspot (recognized by Conservation International) with only 11% of its original habitat intact. Population pressure is on the rise, having increased in some parts by 10 times in the last 60 years, as has livestock. Hunting and poaching for food are common, putting the rare wildlife species at risk.