In Nepal, Pragya is working for the sustainable development of the Himalayan region and its vulnerable & marginalised communities, as well as for the conservation of its sensitive ecosystem. We are addressing the critical needs of the least developed, high-altitude districts that span the northern belt of the country and its inhabitant communities. Research work covers all hill and mountain districts (55 of them) while grassroots projects are being implemented in the districts of Humla, Dolpa (Karnali zone) and Mustang (Dhwalagiri zone).
Pragya Solutions is coordinating activities implemented in Nepal in partnerships with local grassroots organisations and has a coordinating office in Kathmandu.
Our work is delivered through our office in Kathmandu and in partnerships with local grassroots organisations.

Show that you care

UPDATES
Hygiene and Sanitation sessions in the schools
The water and sanitation facilities in the earthquake-affected areas in Nepal had been severely damaged. Pragya is helping to reconstruct toilets in schools and villages, and enhancing awareness...
read more...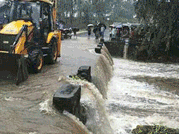 As the raging monsoons continue to wreck havoc in northern India, millions of people are forced out of their homes due to floods and landslides. In flood ravaged states of Bihar and Assam, people are struggling to meet their basic needs of food, shelter, healthcare. With 440 people dead, 10.8 million people marooned by flood waters, Bihar is among the worst hit. Pragya team is reaching out to people in flood affected villages in Araria and Kishangunj districts of Bihar.

Your support can help us expand our relief efforts, and cater to the needs of thousands more who require assistance.

If you would like to help us in addressing immediate relief needs of the flood victims, please contact:
research@pragya.org
+91 124 283 9009;
+91 81307 75455
pragyauk@pragya.org
+44 20 3770 0393