Crisis at Horn of Africa - the aftermath
The countries in the Horn

of Africa have been facing severe drought conditions, with Somalia, Kenya and Ethiopia being the worst hit. Stretches of Mogadishu, Uganda, South Sudan and Eritrea also suffered under the dry spell. Millions of children and elders have suffered from hunger and malnutrition.
Pragya Kenya is implementing several interventions for long term sustainability measures and reducing risk to life and livelihood.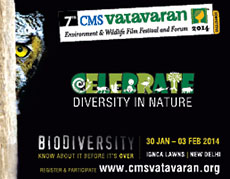 Pragya is the knowledge partner for "Mountain Biodiversity Lawns" for the 7th CMS Vatavaran Environment & Wildlife Film Festival and Forum being organised at IGNCA lawns, New Delhi, India from Jan 30th to Feb 03rd, 2014. The theme for 2014 is mainstreaming biodiversity conservation at different levels to promote coexistence in harmony with nature.