One of the greatest challenges facing the youth in disadvantaged communities around the world is unemployment, and the economic uncertainty and anxiety that emerges from it. Huge numbers of young people living in rural areas are unable to find productive work due to a deficit of appropriate knowledge, skills, and opportunities. The declining prospects of traditional occupations signal to rural youth potentially worse impoverishment than their forebears. This propels youth outmigration from rural communities to urban centres in a bid to find opportunities for new kinds of work and better prospects for the future. Yet this can have devastating impacts on the communities they leave behind, with the breakdown of established social systems essential to the proper functioning of the community, and an aging population unable to support itself, putting at risk the very survival of these communities.
Geographic Outreach to date:
Assam, Arunachal Pradesh, Bihar, Himachal Pradesh, Jammu & Kashmir, Rajasthan, Uttarakhand states in India. Dhading, Dolpa, Humla, Mustang, Nuwakot, Sindhupalchowk districts in Nepal Kakamega county in Kenya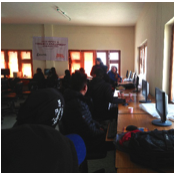 Employment in India
Skilling youth through the vocational courses facilitating access to employment in India.
Read more...

Mobile Vikas Kendras, Madhepura
The Resource Centres and Mobile Vikas Kendras in collaboration with @Alstom are providing education, health and vocational skill building.
Read more...
Pragya passionately believes that young people should have every opportunity to thrive in the working world, to undertake engaging work that accommodates cultural histories whilst looking to the future, work that is conducive to both individual character building and a flourishing of communities as a whole. Pragya is working to foster a supportive careers-oriented environment, encouraging youth to consider their options, and equipping them with the tools necessary to begin taking steps towards realising their goals. Our vocational training work is focussed on Below Poverty Line communities in especially poor parts of India such as rural Rajasthan and Bihar, remote parts of the Indian Himalayas, as well as in urban slums, where unemployment is very high.
Pragya delivers intensive livelihoods training in occupations such as retail, hospitality and tourism, construction, electronics and IT to name a few, which are conducted in collaboration with universities and other institutes, or through Resource Centres established by Pragya. The chosen courses made available in a given location are based on local labour market demands, and are oriented to sector specific-skills. Courses include sector experience for trainees through exposure visits to promote understanding of various workplaces, and we create linkages for networking with employers and institutes, providing crucial sector engagement and a helping hand in launching new careers. Many of the skills learned in these short-term courses are transferable, and hence participants are equipped not just to enter these specific occupations but to broaden their horizons more generally. Our IT courses, in particular, are equipping adolescents and young adults with computer and communication skills applicable to a range of occupations, and through these courses we distribute information on applicable careers where the skills learned are in demand.
Complementing these courses, our Resource Centres act as hubs of careers information and employment-related facilities. Centres are equipped with wide- ranging sector information sources including careers databases, booklets, sectoral periodicals and bulletins, posters, leaflets, audio-visuals and the like. Trained careers advisors are on hand at the centres to provide guidance and help the unemployed explore appropriate careers avenues, along with the necessary steps towards pursuing a chosen occupation, including application support; advisors also provide support through dedicated helplines. We also believe that youth from marginalised communities have all the necessary passion, drive and creativity to become the next leaders and wealth-creators, and fuelling this spark Pragya works to promote youth entrepreneurship, facilitating the know-how for youth to start up small-scale enterprises, bringing ideas to life and ultimately generating further employment.
Pragya's work to build vocational skills among disadvantaged youth in some of India's poorest communities is helping protect local economies and cultures, whilst encouraging and enabling youth to take the lead in determining their futures.Our projects are:
Reducing rural youth outmigration, through providing youth with sector-specific vocational training in occupations that have potential in target locations
Enabling youth to make fully informed career choices, though a combination of sector exposure visits and access to fully-resourced careers centres
Equipping rural youth with a variety of transferable skills, supporting them to transition between occupations if desired
Fostering youth entrepreneurship through training in start-up enterprise, creating new job opportunities and supporting local economies