In Bangladesh, Pragya is working to address the vulnerable & marginalised communities of 'charlands' (sand bars within the river channels and those attached to riverbanks), as well as their sensitive ecosystem. We are addressing the critical needs of water and sanitation, livelihoods and disaster preparedness, and also working to prevent violence against women and girls. Current interventions are addressing 'charlands' of Munshiganj district, and will be expanded to cover charlands across 10 districts in Dhaka Division. Research is also under way into climate change associated vulnerability and the issue of trafficking of women and girls.
Pragya Solutions is coordinating activities implemented in Bangladesh in partnership with local grassroots organisations.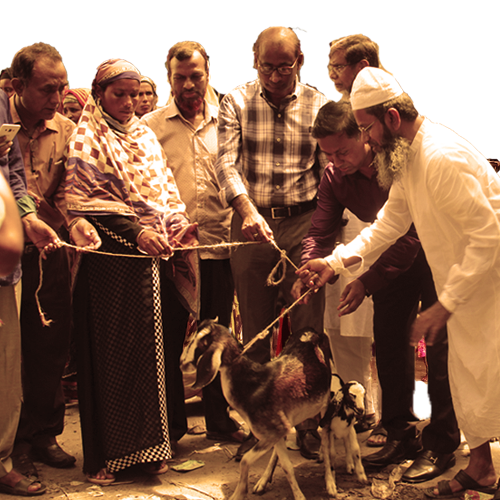 Our work is delivered in partnerships with local grassroots organisations.

Show that you care


Pragya Solutions, Bangladesh
#88, 1st Floor, Road 10/1, Block D, Niketon,
Gulshan 1, Dhaka 1212,
Bangladesh
Email:
info@pragyasolutions.com
UPDATES
Livelihoods Rehabilitation in Jhautia, Bangladesh 
221 families living on the river island near Lauhojong lost all their farmlands and assets in the 2017 floods. We provided some of these families with a livestock package in order to help them adopt an alternative livelihood. The local Livestock Officer also guided them on animal husbandry techniques, including healthcare for the livestock.
read more...