Gaining their voices to say "No more violence!" through Know Your Rights Campaign
On International Women's Day,
Pragya in India mobilised communities in five districts across three states in the first phase of its biannual 'Know Your Rights' campaign for women and girls, under the project 'Comprehensive primary prevention programme addressing violence against ethnic minority women in India', focussed on the community-led interventions to address violence both within family or private sphere.
Stakeholders' Training on Conservation Advocacy towards protection of Kakamega Forests
In July 2018, Pragya organized a Conservation Advocacy

Training for local stakeholders at Isecheno, Ileho and Tirika in Kakamega county in Kenya. 38 participants attended the training and were prepared for their role as advocates for conservation, and jointly strategized and developed action plans for the conservation of the biodiversity of the Kakamega forests, in particular, their medicinal plant wealth.
Livestock distribution to population affected by earthquake in Nepal
Post the 2015 earthquake in Nepal,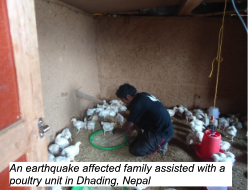 several families in the affected districts had lost their livelihood assets and were struggling to make ends meet. Pragya's intervention in 4 of the districts is helping these households to rebuild their lives. Pragya is distributing a livelihood support package to the affected families – goats or poultry, as per the family's preference - along with associated training.





Livelihoods Rehabilitation in Jhautia, Munshiganj district, Bangladesh
The formidable water and

221 families living on the river island near Lauhojong lost all their farmlands and assets in the 2017 floods. We provided some of these families with a livestock package in order to help them adopt an alternative livelihood. The local Livestock Officer also guided them on animal husbandry techniques, including healthcare for the livestock.