From Rudraprayag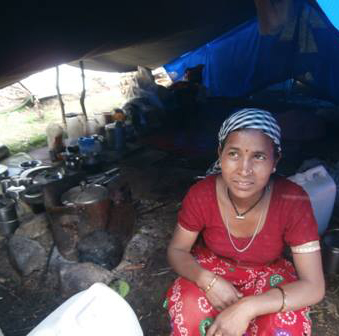 Jal Talla village in Kalimath Valley of Ukhimath block in Rudraprayag district is a small village with 40 households, all of whom were involved in some way with Kedar-tourism, having had shops/establishments in Kedarnath valley or having been employed there as daily wage earners, and has therefore experienced a major loss in terms of the youth population. There have been 20 deaths in the village and several households have lost their sole bread-winners. The old parents/young widows are left behind who now have to fend for themselves. There are families who have lost both their each of their earning sons, or others where both father and son have lost their lives, leaving the dependent family members in grave uncertainty with regard to their future. The education of young children in these families is at risk. The families with young women of marriageable age are also concerned about their future. The widows as per prevailing social customs would have restricted mobility in the society and limited capacity to earn their living. Although they have received monetary compensation, the future poses an enormous challenge for these families.
From Chamoli
Pandukeshwar village in Mana Valley of Joshimath block in Chamoli district is a cluster of small hamlets dependent on tourism in Badrinath circuit. Most of the residents, having had shops/establishments in Badrinath valley have experienced a major loss in terms of their livelihoods. 28 houses were completely washed away and the families have taken shelter elsewhere with no land left to rebuild their shelters. 14 houses in the village were partially damaged and are not fit for habitation. Altogether 65 families have been displaced and are staying in cramped shelters elsewhere. A Primary Health Centre that was the lifeline for 11 settlements close by, got washed away completely along with all medical equipments and supplies. Pandukeshwar has suffered a huge blow in terms of its civic amenities with a Veterinary Health Centre, 1 Primary school, 5 bridges connecting the village washed away and 2 primary schools and pipelines for drinking water supply partially damaged. Several hectares of land with the crops and apple, walnut, peach trees were swept away by the surging waters.
From Uttarkashi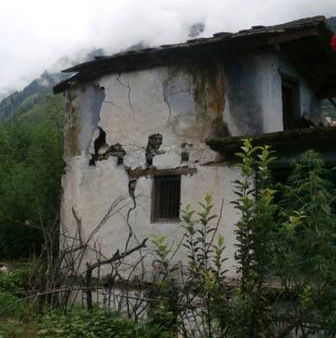 Dhanpur panchayat in Bhatwari block in Uttarkashi district comprises 3 small settlements. In Upla Aleth settlement, the landslide and heavy rains rocked 33 houses that have been rendered partially damaged. With the gigantic cracks and unstable foundations, and debris accumulated all around, the entire village is in a state of shock. The panic stricken villagers have sought relocation of the entire village. With one of the Anganwadi centre completely damaged and one within danger zone from ongoing landslides, the people are determined to search for a safer habitat for their future generations. The village has suffered severe damage in terms of loss of agricultural lands and livestock death with 130 farmers affected. But livelihood concerns notwithstanding, currently the rumbling boulders and gaping cracks in soil and being cut off from essential health services are what haunt the people most. 121 villages in Uttarkashi district alone have suffered similar fate and have sought relocation to safer reaches.
A little help from you would go a long way towards rebuilding the
lives of the people...
SHOW THAT YOU CARE!
2013 Uttarakhand Flooding